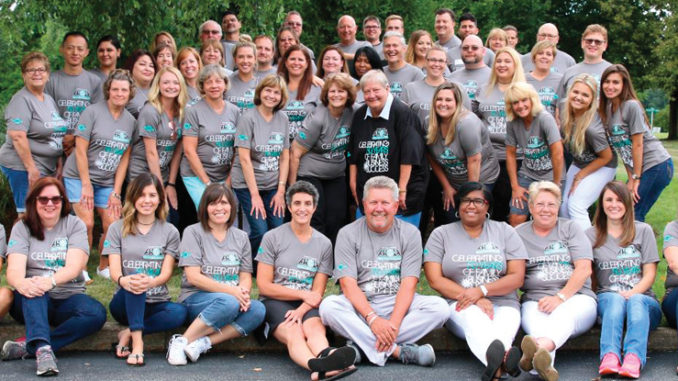 Ahola offers a unique perspective on human capital management
By JordYn Grzelewski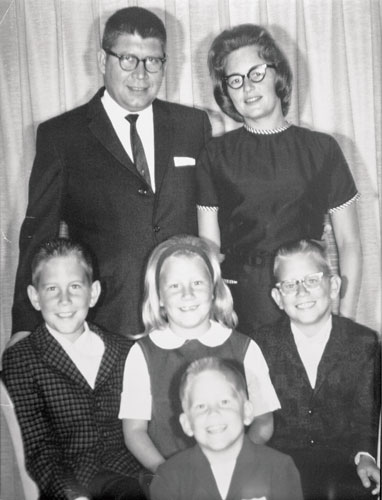 Entering the lobby of the Ahola Corporation's Brecksville headquarters, visitors can't miss the mural of a baby-blue 1967 Ford Fairlane 500 on a wall opposite the reception area.
Painted next to it are the computers used in the business's early days and a portrait of the company's namesake: Chet and Rheta Ahola, along with their four children—sons Mark, Jeff and Scott and daughter Marja—who carry on the family payroll business more than 50 years later.
Another tribute to the company's history is the Ohio Historical Marker recognizing Ahola's status as the world's longest continuously operating family-focused payroll service provider. The company recently wrapped up celebrating 50 years in business and prides itself on what it's accomplished in those five decades.
"We're the oldest in Ohio. We're the third-oldest overall. And we're the most experienced privately held, family-owned business in our industry," says CEO Jeff Ahola. "It's a pretty proud thing to have the kind of distinction, to be that kind of pioneer."
To date, Ahola has provided automated payroll services to more than 10,000 corporations and issued nearly 40 million paychecks. The company currently serves more than 2,700 clients and their 45,000 employees, and employs about 70 people.
It all started out of the trunk of the Ford now immortalized on the office wall. Chet Ahola, an IBM-trained computer programmer, founded the company in 1967 when he started providing computer services to clients. In the beginning, he would leave the family's Avon Lake home about 11 p.m. and drive to Cleveland, where he bought computer time at a discounted late-night rate from the downtown banks. After he was done working, he'd put the payroll checks in his trunk, drive home and sleep, then get up the next day and deliver the checks to his clients.
"If you owned a business and you had an inventory problem, he'd do your inventory. If you owned a business and you had payroll, he'd do your payroll," says Jeff. "And that's basically how he created the vision for the company."
The payroll services end of the business took off in the late 1960s when Chet inherited the clients of a bookkeeping firm that had hired him to write enhanced payroll software.
"That's how, in 1969, he had 200 automated payrolls before anybody else did in the United States," says Jeff. "It was such a pioneering thing."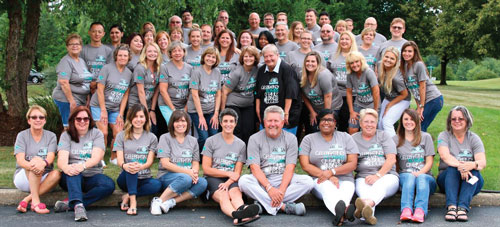 As the business grew, so did Chet's technological innovations. He bought two used IBM 1401 mainframes, using one for work and harvesting the other for parts when he needed to make repairs. Then came the advent of personal computers. As technology changed rapidly in the 1970s and 1980s, Ahola was at the forefront.
"We licensed Microsoft software. We were one of Michael Dell's first costumers," Jeff says. "We're customer No. 14,000 or something, and Dell has sold millions and millions of computers."
The second generation of Aholas joined the business in the 1970s. Chet's wife, Rheta, had gotten involved early on working as a data analyst. When Jeff came on in the 1980s, he helped steer Ahola to focus exclusively on payroll services. Ahola was among the first companies in the country to do automated tax filing.
"ADP, Ceridian and Ahola pioneered Tax Link, which was the first automated tax filing processing software, and our software developers had quite a few interactions with others in the space to help the IRS test federal payments, to test processes," Jeff says. "Electronic tax was a key part of the growth of the industry and the business."
As technology transformed the industry, Ahola changed, too. A company that started out delivering paychecks from Chet's trunk now takes care of all its clients' employee-related needs.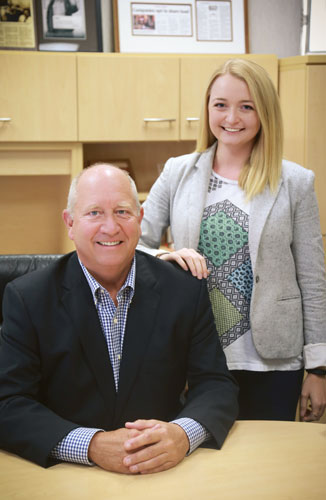 "Here we sit in 2018, where we call the industry 'human capital management,'" says Mark Strippy, Ahola's vice president of sales and service. "It's much more than payroll and tax. It's helping employers onboard the right employee. Helping them manage their talent from a new-hire perspective. Helping them take care of employees' IRAs and 401(k)s and benefits. It's benefits, wellness programs, onboarding, time and attendance, alternative-payment mechanisms."
Ahola has carved out a niche for itself in the human capital management space by focusing on private, family-owned companies, a market that Ahola's leaders say has potential that has yet to be realized industrywide.
"We're at the very beginning of a very huge tsunami of family business research and studying, and we're on the front edge of this whole thing," says Jeff. "It's really exciting, but it's sometimes hard to communicate, because some people don't realize that the family-business industry is out there percolating and growing extremely rapidly around us."
As a family-owned business itself, Ahola has a unique perspective to offer clients. "I think the culture of being a family company is so different from the culture of a publicly traded competitor of ours, so I think we have a big advantage if we can translate that culture to the customer experience," Jeff says. "It's not corporate America. It certainly is family business."
Looking forward, Ahola will remain committed to Northeast Ohio as it also looks at growth opportunities in other areas, says communication and brand strategist Sonya Ahola, Jeff's daughter.
"We see a lot of success and opportunity in Columbus with the growth of a lot of businesses there, so that's a huge initiative for us," she says. A member of the third generation to work in the family business, she has her eyes set on the future of the company her grandfather founded.
"Fifty years has just hit, and we're ready for the next 50," she says. "We don't want to slow down at all. We want to speed up."