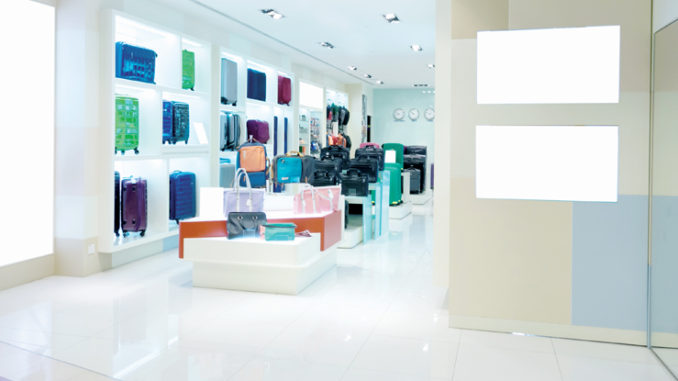 Columbus-based plastic manufacturer continues to grow after 69 years
By Gail Burkhardt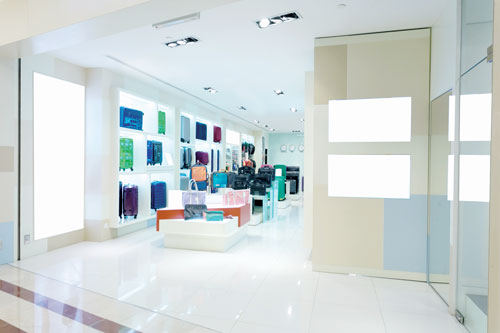 Columbus resident and entrepreneur Donald Dunn is not afraid to take risks.
The 95-year-old Army veteran earned a Silver Star Medal during World War II for leading his men through battle in the mountains of Italy even after being hit in the chest by a sniper's bullet. Dunn used that spirit and attitude to found a successful plastic manufacturing company in Columbus.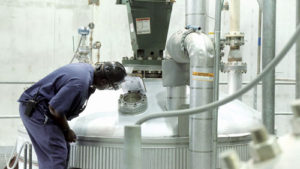 In 1950 he began Plaskolite, first producing household products that included drinking straws, fly swatters and even the Hula Hoop, a 1950s toy craze. Dunn took chances with the company by investing in new technologies and constantly looking for ways to grow and improve, says Plaskolite CEO Mitch Grindley.
The risk-taking paid off. Today the business has grown to become the United States' largest producer of thermoplastic sheet. Manufacturing facilities are located across the U.S., as well as in Mexico and Turkey, and employ more than 1,200 people.
From Hula Hoops to thermoplastic sheet
Today Plaskolite's products are used in a variety of applications, including cars, signage, lighting, windows, bathrooms, screens, retail displays and even eyewear. The company is thriving, but that was not always the case. Dunn almost lost Plaskolite four months in. He had invested $9,000 in a plastics manufacturing company whose owner left town with Dunn's financial backing. But Dunn, seeing the potential in plastics, invested again.
"I wanted to be an entrepreneur, so I went looking for an opportunity," Dunn says.
Dunn acquired more companies and know-how, including how to make polymer, thus adding more products to Plaskolite's lineup. Through the years, Plaskolite has gradually acquired additional companies in the same arena, accounting for its current dominance.
Since January 2018, Plaskolite has added four other companies, more than doubling its number of employees and adding five more manufacturing facilities, says Grindley. Those businesses include: Rotuba Extruders, profile lighting; Lucite International, continuous cast acrylic sheet; Covestro, polycarbonate sheet; and A.L.P. Lighting Components, lighting sheet and profile lighting.
Major chemical companies, once heavily involved in the industry, are leaving the thermoplastic sheet business, which also has opened opportunities for Plaskolite and kept the manufacturer busy, according to Grindley.
"Growth has been really outstanding," he says.
Ohio roots
The manufacturer has been a staple in the Ohio community for 69 years, employing about 500 people in Columbus and Zanesville.
"I think the Dunns have always been quiet about their company and I think people would be surprised about how big Plaskolite is. They are silent titans," Grindley notes.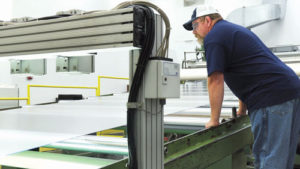 Grindley has worked for Plaskolite since 1981 and adds that he is not the only one who has worked for the company for many years.
"You aren't in business in 69 years without affecting a lot of families. If you look at the years of service, a lot of our people love working for Plaskolite," he says, noting one employee who joined the company following in his grandfather's footsteps. Donald Dunn transferred his leadership to his son, Jim Dunn, in the 1980s, but remained involved.
"Even today [Donald Dunn] still knows Plaskolite," Grindley says. "He knows pretty much everything that's going on. He keeps in touch."
The Dunn family sold its majority ownership of Plaskolite in 2015 to a private equity investment firm, Charlesbank Capital Partners. Another firm, Pritzker Private Capital, acquired Plaskolite in December 2018. But despite the sale, Plaskolite's impact on the Central Ohio community remains. Until 2017, the company's headquarters was located in the Linden neighborhood of east Columbus. The company always found ways to help the underserved neighborhood, says Marilyn Mehaffie, the CEO of St. Stephen's Community House, which provides social services to the Linden area.
"They are very community service oriented—both the staff and management," says Mehaffie.
Plaskolite has helped monetarily, with food and volunteers, and, of course, customized plastic products to help with the community center's events. A Plaskolite executive has served on the St. Stephen's board for years.
"They are just really a valued partner," Mehaffie adds. "Even though their headquarters moved, they've still stayed very much involved in the community and it really makes an impact here."
Moving forward
Plaskolite moved its headquarters from its manufacturing plant in the Linden neighborhood to the historical Buggy Works building in the Arena District in downtown Columbus in 2017. The company made the move to provide more amenities and to attract additional skilled employees.
Plaskolite's growth has spurred more changes with the hiring of a new president, Kevin Short, in April 2019. Previously Grindley served as both president and CEO. Short, formerly with Polymershapes, will work closely with Grindley.
"As we have grown both organically and through acquisitions, it has become clear that our leadership team must grow accordingly to ensure we build on our recent momentum," Grindley says.
"I have known and worked with Plaskolite for almost two decades and have admired its leadership team, business practices and dedication to customer service," Short says. "I am thrilled to join the organization and look forward to working with Mitch and his team to continue to grow the business in exciting new ways."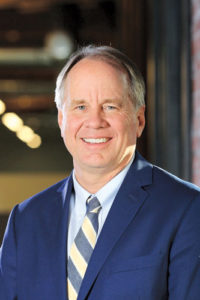 Mitch Grindley is the president and chief executive officer at Plaskolite, Inc. Grindley has worked for Plaskolite since 1981 as a sales representative. In 1985, he was promoted to vice president of sales. He was elected to the Board of Directors in 1991. Under his tenure, Plaskolite has become the largest manufacturer of acrylic sheet in North America, and second worldwide.

Grindley is a graduate of The Ohio State University with a bachelor's degree in Economics. Grindley and his wife, Christine, have three grown children and are involved with Christ Child and Faith Mission, an organization that is focused on the homeless of Central Ohio. In 2012, Grindley was appointed by Governor John Kasich to represent Business on the Public Utility Board. The governor has since put him on the Board of Ohio Venture Capital Authority.