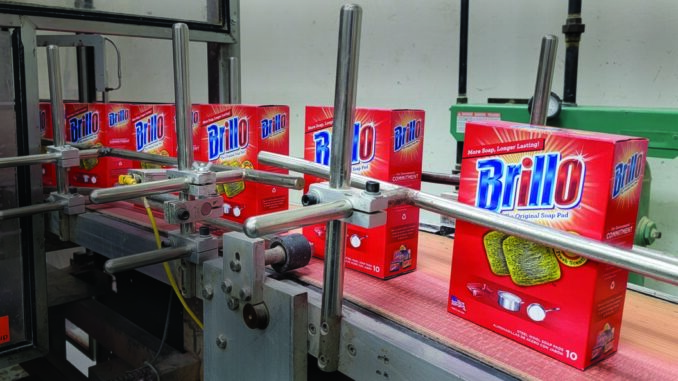 Brillo has called Ohio home since 1921
By Terry Troy
Anyone who has had to clean stubborn rust, chrome, bathroom faucets or dirty ovens, knows the Brillo Pad as an invaluable household cleaning tool. What a lot of people don't realize is that they have been made right here in Ohio for over a hundred years.
Acquired in 2010 by family-owned Armaly brands of Walled Lake, Michigan, Brillo Pads are manufactured at a 123,000-square-foot plant in London, Ohio.
The invention, whose origins are the subject of some speculation, offers a combination of soap and lightly spun steel wool, the latter being just abrasive enough to clean and scour metal, while not damaging glass—when used properly. While initially invented to clean aluminum cooking utensils that started replacing cast iron at the turn of the last century, Brillo Pads are used today to clean everything from gardening tools and outdoor surfaces to sharpening scissors, finishing woodwork, polishing brass and actually starting campfires.
According to published accounts, the Brillo Pad was invented by a cookware peddler and his brother-in-law, who was a jeweler. Lacking sufficient funds, they offered a New York attorney named Milton Loeb an interest in starting their business. Loeb accepted and secured a patent for the product under the name Brillo in 1913.
"By 1917, the Brillo Manufacturing Company was making steel wool pads and packaging them, five pads to a box, with a cake of soap included," says Matt Kirk, vice president of sales and marketing for Armaly Brands. "In 1921, the Brillo Manufacturing Company moved to London, Ohio, where production resides today."
Armaly saw the brand as a great strategic fit for its lineup of cleaning products, which started with household sponges in 1908, a business, "which we currently still operate and are the No. 1 distributor of natural ocean sponges in the world," says Kirk.
While Armaly was initially attracted to Brillo because of its strong brand recognition, Armaly also discovered other synergies that would provide a smooth transition into Armaly's product lineup, which today includes the Armaly ProPlus brand; America's Best Soft Tools, which focuses on prep and finishing surfaces for professionals and DIYers; and the Autoshow brand, which focuses on automotive appearance. A new brand, The Natural Sponge, focuses on personal care.
Following the acquisition of Brillo, there were a few small challenges that needed to be addressed to make the transition easier.
"But with the great people at the London facility, those pain points were minimal," says Kirk.
Armaly has since used the Brillo name to launch other household cleaning products.
"The Brillo brand is one of the most recognized household cleaning brands in the world," says Kirk. "As a trusted go-to choice for consumers, the strategic vision for Brillo brand growth extended into other segments by acquisitions and an innovation pipeline of products to deliver the level of performance consumers expect from the brand."
Because Armaly is a private, family-owned business, Kirk was unable to share specific sales data. However, he did admit that 50% of Armaly's sales come from the Brillo brand.
"Brillo exists to guide you through the tenacity of life and empowers you to achieve brilliance," says Kirk. "Brillo is committed to being your go-to source for the most effective cleaning solutions, empowering you through simple, straightforward guidance to tackle any challenge, big or small."
Armaly expects to maintain production in Ohio for the foreseeable future, Kirk adds.
"We have passionate and dedicated colleagues who have been providing great products for homes for over 40 years," says Kirk.
"There are many people at our London plant, with a history of knowledge and skills, who are not easily replaced."