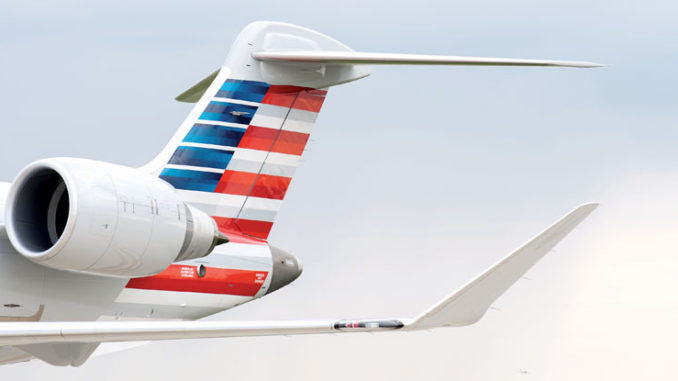 PSA Airlines, headquartered at the Dayton International Airport, currently has more than 5,000 employees.
By Eric Spangler
PSA Airlines, a regional airline headquartered at Dayton International Airport, has nearly tripled in size over the last several years. The airline, a wholly owned subsidiary of American Airlines, has grown from 49 aircraft at the time of the American Airlines merger with US Airways six years ago to more than 135 aircraft, says Jenna Arnold, a communications official with PSA Airlines.
The airline operates more than 800 daily flights on its Bombardier CRJ 200, 700 and 900 aircraft to nearly 100 destinations. To keep all those flights running safely and efficiently PSA Airlines has more than 5,000 employees, Arnold says.
To match that enormous growth the airlines talent acquisition team has tripled in size and talent over the last three years. "With the amount of growth we have seen over the past several years our current goal is to stabilize and build a team to support that growth, our team members and our airline," says Arnold.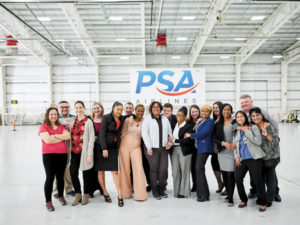 To do that PSA Airlines has a talent pipeline strategy that is unique in the market, she says. "Our competitive pathway programs offer an educational, economical and resourceful path to acquiring the skillsets and technical skills to become a pilot or mechanic," Arnold says.
The programs offer monetary support to complete the requirements of the programs, mentorship from its team members and opportunities to be part of the PSA culture prior to joining the airline as a full-time employee, she says. "Our pipeline programs are the future of our hiring."
Arnold says PSA Airlines hires people who are excited to be part of a growth culture. "We look for those that are prideful in their work, willingness to get it done and are all in," she says.
Employees are then provided a new hire orientation, along with a roadmap of success called the PSA Way—focusing on its imperatives, safety, respect, preparedness and professional excellence. "We coach, lead, and develop talent to this model," Arnold says.
Arnold says PSA Airlines is in most need of crew members supporting its frontline operation. "This includes pilots, aircraft mechanics and flight attendants," she says. "In 2019 each of these work groups experienced an increase in pay to attract those that fit our culture."
To help create a pipeline for future pilots and mechanics PSA Airlines partners with select college aviation programs. "We look for schools that have strong structured training programs, a pipeline of talent to introduce to PSA and those willing to partner and create resourceful opportunities for students that want to commit to PSA," she says.
PSA Airlines also employs a competitive maintenance pipeline program that partners with select technical schools aimed at covering the cost of a student's airframe and powerplant license. "For each school committed into this program we extend a full PSA tool box, monetary sponsorships and engagement opportunities for students in exchange for partnership to access future aircraft mechanics," Arnold says.
The goal of PSA Airlines' recruiting and talent acquisition programs is all about delivering quality service to its customers. "American trusts in PSA to deliver great service for its customers and we will continue our work to operate safely and reliably for them," says Arnold.