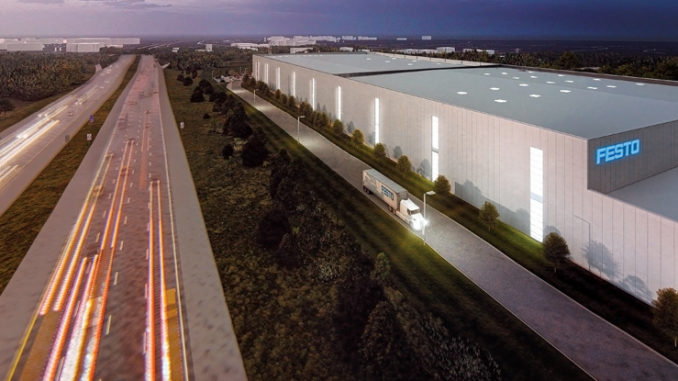 Festo's innovations and automated processes touch our lives in many ways
By Janice Hisle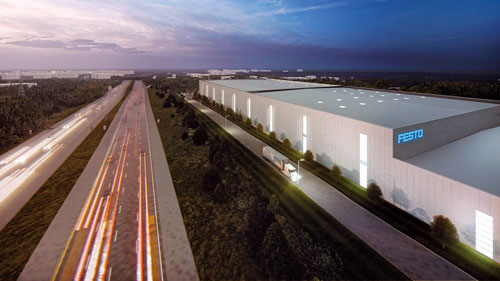 Even in the few seconds it takes to whiz past Festo Corp.'s 47-acre campus along Interstate 71 in Southwest Ohio, motorists notice something big being built: a $90 million expansion that will nearly triple the high-tech company's square footage and employ 350 more people.
But amid the daily traffic—76,000 vehicles—few passersby can imagine the unexpected ways this German-based firm is invisibly touching their lives.
Anyone picking up a carton of milk or a bottle of orange juice would probably be surprised to know that "the packaging of those products benefited from the automation solutions we provide," says Nikolas Gebhard , vice president and chief operating officer of Festo's Regional Service and Manufacturing Center in Mason.
For example, Gebhard notes that an important Festo client builds robots that milk cows. Automating the milking process improves efficiency and productivity—and, he says, the cows benefit from the milking robots' "massaging" action, too.
Festo's hidden reach is global. Serving more than 300,000 customers in 176 countries, Festo specializes in advanced automation technology used in more than 40 industries, providing "intelligent automation solutions that transform the way people work—and the way companies compete."
The Mason center is one of nearly a dozen locations for Festo, an international company with North America headquarters in Islandia, New York.
In operation since 2015, the Mason center is expanding to meet demand for its built-to-order automation components. With an initial $50 million investment, Festo built a 150,000-square-foot facility along the so-called "Innovation Corridor" of I-71, named for Ohio's effort to lure innovation-based businesses.
Mason is considered a "center of excellence" in Ohio for its success in attracting innovation companies, says Michele Blair, Mason economic development director. Festo liked the idea of having neighbors such as L3 Communications, Honeywell Intelligrated, Makino, Rhinestahl, AtriCure, Myriad, Mitsubishi and FANUC Robotics, Blair says, helping attract Festo to a high-profile, high-visibility location along a major interstate.
Another plus: transportation is now flowing more smoothly thanks to the $40-million interchange that opened in February at I-71's Exit 24, Western Row Road, just north of Festo's Mason site.
The excellent transportation infrastructure strategically positions Festo's Mason center to serve businesses throughout Ohio and nationally, says Gebhard, providing "speed and flexibility on the production side" along with training and engineering help for customers.
In one instance, Festo added production shifts to help equip a customer to fulfill a huge order; in another, "because we have our engineering team in Ohio, we were able to work with a packaging machine builder to tailor his machine concept specifically to his needs," Gebhard says. In addition, Festo's Mason location can combine fast product delivery with product and technology training, "so that, with deployment of the product, our customer's maintenance team is already trained on how to best service the products," Gebhard says.
Festo offers 21 categories of products, including motors, electric cables and software. And, in collaboration with outside researchers and scientists, Festo also has developed eye-popping innovations: bionic versions of human arms and hands, as well as dragonflies, bats, birds and fish. The bionic hands are being put to practical use—such as sorting fruits and vegetables in the food-service industry; some of the bionic animals are mainly high-tech demonstrations intended to spark further research, development and creative applications of movements perfected by Mother Nature.
Such novelties delight and intrigue young people in particular, and Festo has worked closely with schools to inspire students to pursue high-tech careers.
Yet, at the same time, some people worry about automation supplanting human workers. Gebhard's response: "There is a perceived threat with every innovation since the time man moved from horse-and-carriage to trains."
But through its customers, Festo sees employment "at an all-time high where innovation is involved, and automation is an integral part of innovation nowadays," Gebhard says. Automation is no longer viewed as "anonymous, cold and threatening," he says, "but, rather, part of the innovation process."
Gebhard explains that new jobs are created whenever automation is introduced. "With automation, once the production is done by the machine, people take over to provide personalization of products, which can be provided at the same price as a standard product," he says.
Besides, Gebhard says, employers recognize that "people are the crucial factor to a company's success." That's why more employers are focusing on continuous learning and skills-development opportunities for their employees. Festo's Didactic division offers training courses and services "to support the development of a highly skilled workforce in manufacturing," Gebhard says.
The Mason facility's biggest contribution to Festo's growth is "speed and proximity to the market," Gebhard says. He says 80 percent of the company's products move within 24 hours, "which gives Festo a real competitive advantage."
Gebhard assumed leadership of the Mason site a year ago. The biggest challenge he's faced since then: Forty-three rainy days that caused construction complications. Nevertheless, the project is running on-time and on-budget, he says.
Machinery should be installed this September and will be fully operational by the end of 2020; the expansion is on target for full completion by 2024.
By then, Festo's buildings will span 500,000 square feet; the expansions are being added to both the north and south ends of the original 150,000-square-foot structure.
Post-expansion, the Mason facility is expected to employ 600 people, including 350 new jobs in engineering, mechatronics, purchasing, materials management, production and logistics; the annual estimated payroll should reach $21 million, city records show.
And, Gebhard says, by then the Mason center will offer new products and new technologies, ranging from extrusion to machining.
The changes will transform the Mason facility from a regional service center to a North America hub serving customers in the United States, Canada and Mexico.