ToleDo breakfast chain Scramblers looks to attract millenials with its new fast-casual option
By Lynne Thompson
Shain Buerk was looking for a way to capitalize on the trend to fast-casual dining, a variant that combines the speed of ready-to-bag fast food with the made-to-order quality of a traditional restaurant.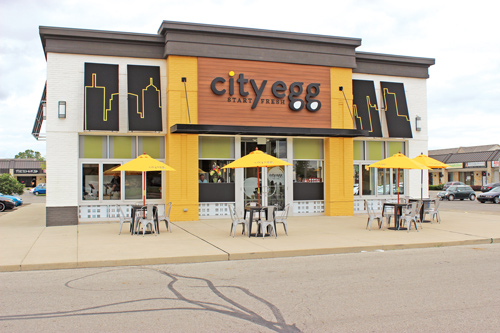 His family had built a Toledo-based chain of 25 Scramblers eateries throughout Ohio and the Detroit area on the ever-increasing popularity of breakfast. In fact, they'd been successful enough over the last two-plus decades to maintain a model of offering only breakfast and lunch during the limited operating hours of 6:30 a.m. to 3 p.m. But the 11 company-managed locations and 14 franchises were full-service eateries, places where customers lingered at their tables for an hour or more. He was looking to attract millennials who, despite their penchant for premium foods and dining out, simply didn't have the time for a leisurely meal.
"They become a much higher market of demographic opportunity than exists in full-service restaurants," the president of Scramblers Brands says. "And so we began to say, 'If we want to target a younger group, we need to make augmentations to our procedures, to our design and to our menu so that we can appeal to those people."
The result is City Egg, a concept Shain cooked up with partners Brandon Buerk, his younger brother, and Tim Trautman, their first cousin. Brandon refers to it as "Scramblers Express." The prototype opened a year ago in suburban Columbus, a city where Scramblers had 10 locations and an established brand recognition. The second, a street-level store in The Depot garage on health care system ProMedica's downtown Toledo campus, is slated to begin serving customers late this summer.
Shain describes an eatery with the same Scramblers hours where patrons select and pay for menu items at user-friendly computer kiosks with or without the assistance of an attendant, pick up their cooked-to-order items at a counter, and eat them in-store—on real plates, with real silverware—or carry them out. The company also is testing a cell-phone app that should be available this summer to augment online ordering.
"City Egg seemed to say best what we are: a modern spin on a traditional concept," Shain says.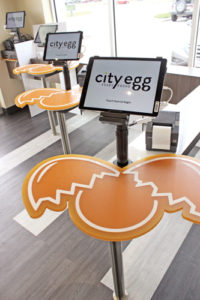 Scramblers and City Egg were hatched from Café Marie, a pair of Toledo-area diners that Shain opened with father Philip and mother Deby Marie (the family matriarch after whom the restaurants were named) in the early 1990s. Philip had sold his stake in 20 Wendy's locations in southern Michigan, Arizona, Colorado and Wyoming and wanted to develop a new concept to franchise.
According to Brandon, Café Marie began making a name for itself with from-scratch classics like French toast and newfangled skillet dishes, along with the practice of leaving an insulated decanter of coffee at each table so customers could refill their cups instead of waiting for a server to do it.
"I remember being a kid, bussing tables, and having people say, 'Oh, this is the greatest thing!'" he says.
A year later, the Buerks had their concept: a restaurant that offered breakfast and lunch exclusively during shortened operating hours of 6:30 a.m. to 3 p.m. daily.
"That was an innovative idea," Shain says of the time, one that set Café Marie apart from chains such as Denny's, Bob Evans and the International House of Pancakes. "We said, 'You want the best omelet in town? You go to a place that doesn't even mess around with dinner!'" The concept also offered advantages to prospective franchisees and employees alike. "We don't throw the drunks out at 2 in the morning, and we don't worry about getting robbed on the way to the bank," he adds. "We have this prima donna shift where we're done every day in the middle of the afternoon."
The Buerks began using the Scramblers name on all new locations, starting with their first Columbus store, in 1998. It was the winning entry in a company contest, an egg-centric suggestion that actually suggested breakfast fare was served inside. In 2005 the family began standardizing the chain brand, first by rechristening all locations Scrambler Marie's—a moniker that reassuringly combined Scramblers with the original Café Marie still on the original Toledo stores—then by embarking on a three-year project to shorten the name to Scramblers on all signs, menus, uniforms and interior decor in 2016.
"Our goal was to be very slow and deliberate and acclimate … our guests slowly, over time, so that they weren't [scared off] by the fact that Café Marie became Scrambler Marie's and now is Scramblers," Shain explains.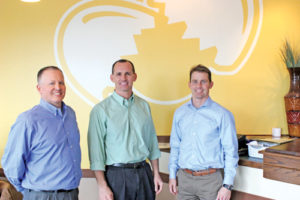 One thing that hasn't changed at Scramblers—and will continue at current and future City Egg locations—is the way in which food is prepared from scratch. Cheese is grated by hand. Fresh vegetables are cut in-house rather than purchased prepped and bagged from a vendor. Pancake batter is made with flour, powdered sugar, baking powder, eggs and milk instead of a just-add-water mix. And every egg is cracked by hand.
"Most, I dare say all, of our competitors bring their eggs in pre-whipped, pre-pasteurized, in a plastic bag, and they pour them out," Shain says.
He goes on to point out that most of the City Egg selections are on the Scramblers menu with a few notable exceptions—for example, an expanded selection of quinoa items that typically appeal to a younger clientele. City Eggs also boast a feature Scramblers doesn't have: a barista bar where coffee and juice drinks, some made with ingredients squeezed onsite, are prepared.
"We shake those [juice] ingredients in front of guests like a cocktail and pour them directly into a clear [plastic] serving glass or [paper] cup," Shain says. "Those handcrafted juices are a huge hit."
Brandon observes that the suburban Columbus prototype generally has been well received by customers, most of whom are willing to place their own orders at the kiosks. But Shain sees the 2,000- to 2,500-square-foot City Egg concept's greatest potential in urban areas where the 4,000 square feet needed to accommodate a typical Scramblers is at a premium or simply unavailable, where people are living and walking to work. Tony D'Agostino, a former insurance-company marketing executive who owns four Scramblers in suburban Cleveland, is among the franchisees who has expressed interest in opening a City Egg at such a location in his market.
"In the right place, in the right setting—in a downtown Cleveland setting, a university setting—I think it could make all the sense in the world," he says.
At press time Shain anticipated completing a franchise disclosure document by the end of May or early June. "Many other concepts out there, it is a multimillion-dollar investment to develop a franchise like this," he says. "I know—we had Wendy's. In this case, it'll be less than a half-million-dollar concept." D'Agostino and other Scramblers franchisees will have first crack at the opportunity before it is offered to the public this summer.
"But the world's a big place," Shain adds. "We have lots of room to expand such a really fun concept."