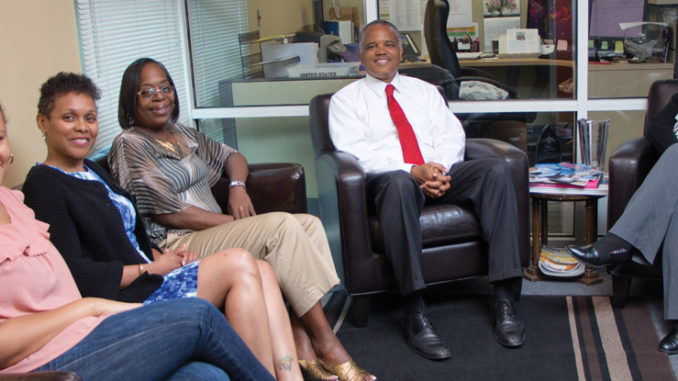 Eric Kearney of Cincinnati's African American Chamber is working to help minority-owned businesses with a 35-point plan
By Liz Engel
Eric Kearney is a Cincinnatian through and through. From his days as a student at St. Xavier High to law school at the University of Cincinnati, the lawyer/former state senator/now chamber leader has certainly built a career in the city.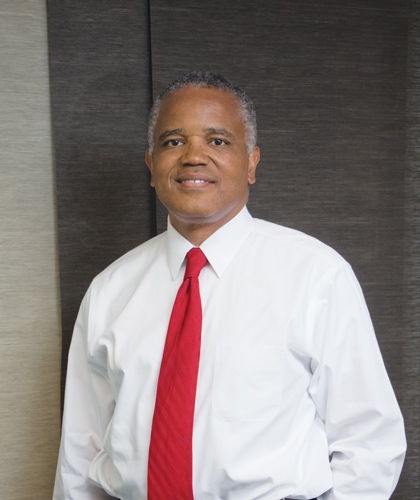 But, these days, life in the Queen City is about more than Graeter's ice cream, LaRosa's pizza and a once-winning, world-champion baseball team.
In his current role as president/CEO of the Greater Cincinnati and Northern Kentucky African American Chamber of Commerce—the largest African-American chamber in Ohio—Kearney's now pushing to make his hometown tops for small business growth instead, including those minority-owned. Cincinnati seriously lags against its peers in this area.
He recently issued a 35-point plan to do just that.
"And work starts now," he says.
Kearney is mild mannered; he's the kind of leader, he says, that points to a mission—and then works as hard as he can with his team to achieve that goal. Perhaps that's a product of his background, where he's played the role of litigator, magazine publisher, politician and more.
After St. Xavier, the Dartmouth College grad pursued journalism at Ohio State University  before switching gears to law at the urging of a cousin. He worked as a litigator—and was one of the first African Americans to become a partner at a major Cincinnati law firm. He made his first dip into politics at age 29, when he ran, albeit unsuccessfully, for Cincinnati City Council in 1993 in a "race that no one remembers," he says. In 1995, he co-founded Sesh Communications, one of the largest African-American owned publishing companies, which prints The Cincinnati Herald, The Northern Kentucky Herald, The Dayton Defender and more. His wife, Jan-Michele Lemon Kearney, still works at the Herald, a weekly newspaper, as its publisher.
Kearney stepped aside in 2005, when he again pursued a political career. He was appointed to Mark Mallory's Ninth District state Senate seat after Mallory, just elected Cincinnati's mayor, vacated the post. Kearney threw his name in the ring at the last minute. He "did not expect to be selected, honestly," he says. But he got the nod.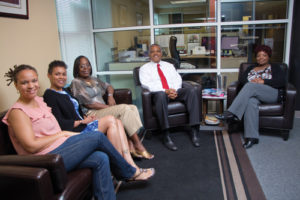 His bio lists many accomplishments in his nine years in Columbus: he served as the Senate minority leader; he created a loan program granting financial assistance for families seeking to adopt; he was a leader in supporting legislation that led to Ohio's booster seat law; and introduced legislation assisting homeowners with the financial costs of removing lead paint from their homes.
He made headlines for his annual walk from Cincinnati to Columbus to highlight children's health issues, but also for his brief stint as Democratic candidate for lieutenant governor. Kearney removed himself from the ticket after reports surfaced about past back taxes.
Term-limited, he returned to Cincinnati, and to law—before he was tapped for his current post in 2016.
Sean Rugless, AACC's then leader, stepped aside to launch his own business, The Katalyst Group, a strategic consulting and branding firm, and Kearney got the call. He already had a long history with the organization—Kearney was an early board member when AACC was first founded in a church basement in 1996—and he still had many contacts from his political career.
He's been on the job for just over two years.
Today, the AACC is the fastest-growing chamber in the region, Kearney says, and is the largest African-American chamber in Ohio, in terms of members—there are approximately 400, which increased 40 percent in 2017—budgeting and programming.
The group holds around 120 events a year, "which is a lot," Kearney says, given his small staff; the AACC employs four full-timers but wants to double that number as it searches for larger office space. Programs include "Business Basics," "Marketing Know How," and "Access 2 Capital," the latter, the No. 1 challenge for members, he says. The AACC airs "Rise to Shine," a weekly radio show, and for several years, has offered the Sudduth Society, an accelerator, for high potential minority members.
And in April, the AACC became the first African-American chamber in the country to launch a real estate investment fund, in which members can invest in commercial real estate opportunities. It's one of several new goals Kearney has been tasked to fulfill.
"It's transformative," he says. "It allows our members to diversify their money and potentially create real wealth. Ohio and Cincinnati are great places for business, but I think the prosperity and wealth creation you see is not shared by everyone. And that's something I hope to address."
In fact, he says, Cincinnati ranks dead last among its peer cities—Austin, Charlotte, Cleveland, Columbus, Indianapolis, Kansas City, Nashville and Pittsburgh—in terms of minority small business growth. But it's something he's actively working to change. Kearney recently rolled out a 35-point plan to improve those scores. That includes child care for entrepreneurs at small business centers, accelerators and incubators; incentives for banks to make loans under $150,000, where there's a gap in capital, and more risk and less profit; and a cut in the city of Cincinnati's payroll tax for businesses with less than 25 employees.
He's established a meetup.com group to develop and hone the plan—the meetups are meant to be small, around five to 10 people—but he ultimately wants to share his ideas with more than 50,000 business leaders, policy makers and community activists in the Greater Cincinnati region.
"We're known for Graeter's and Skyline Chili and the Cincinnati Reds, but we should also be known for being supportive of small businesses," Kearney says. "We've got some work to do, but I think it can be done. I'm very optimistic about that."
It's a platform that could make for a great political fodder some day. Kearney says a return to politics is certainly possible, but there's a few things on his to-do list first. His eldest daughter, Celeste, is a junior at Dartmouth College, and his son, Asher, is about to enter high school. The plan is to devote as much attention to them as possible in the coming years.
"I do enjoy it [politics]. I'm not going to lie," Kearney says. "I like working on the issues. I like hearing different sides of an argument, and I enjoy the walking around, talking to people about stuff. And I enjoyed my time in the Senate; even the bad times, I enjoyed it. I really did. But my wife and I are really into our kids and being supportive of them," he adds. "I want to get my kids through college. I have to fulfill that commitment. And then, once I do that, I'll probably think about it again."