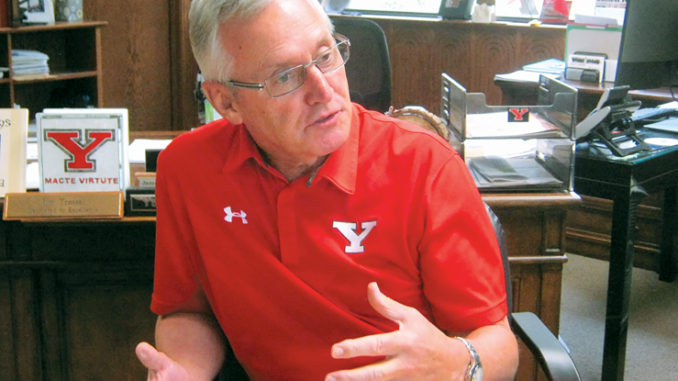 We spoke with James P. Tressel, president, Youngstown State University, about the role public universities should play in regional economic development
By Terry Troy
Once considered one of the leading manufacturing regions of the entire nation, the Mahoning Valley has faced numerous hardships of late. The most recent challenge is the closure of the storied General Motors Lordstown plant, long considered the economic backbone of the region.
While that closure will no doubt have a serious economic impact on the entire Mahoning Valley, these are people with a strong will and work ethic. Their resolve will no doubt cause the region to rise once again. But increasingly, they are looking to the region's public university, Youngstown State University, for answers. And they are finding them.
The ninth president of Youngstown State University, James P. Tressel has been busy moving the school forward on many fronts since his tenure began in 2014: increasing enrollment, hitting record-setting fundraising levels and improving academics—the school recently announcing its first Rhodes Scholar recipient. Tressel first came to the school in 1986 as its head football coach, leading the YSU Penguins to four national championships. He later took the head-coaching job at Ohio State University, leading the Buckeyes to a national title in 2002. He is the author of two books, and during his storied career has been devoted to education and development of students both on the field and off.
Ohio Business recently sat down with Tressel to discuss the role public universities play in regional economic development.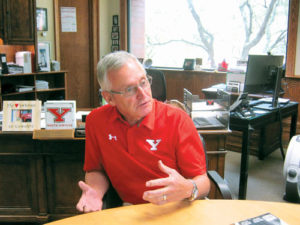 OB: With what has been happening in your area, are civic organizations increasingly looking to YSU for economic development answers?
JT: They are. We have a region that is about 500,000 people, and we no longer have a bunch of Fortune 1000 companies. Akron has Goodyear, First Energy and GOJO. Findlay has Marathon Oil. There was a time when we were in the Top Five economic cities in the country. But now steel is gone. So our university has to take a leadership role in the place of companies like Sherwin-Williams, Eaton Corporation or Cleveland Clinic in the Cleveland area. If you include YSU with Mercy Health, which is our biggest health care provider, and the 910th Air Wing 10 miles up the road, those three are our area's largest employers. We not only are responsible for our workforce, but we also have to take a role in terms of community leadership work. So the part we play in overall economic development is huge.
OB: What steps is YSU taking and what tools can your organization use to support economic development in the Mahoning Valley?
JT: We are very fortunate that back in 2012 President Obama put the first technology center in the nation here in the form of America Makes, which is a center for additive manufacturing. At the same time, the Youngstown Business Incubator rose up to be ranked No. 1 in the world. They started with software development, but turned to other things like additive manufacturing. So our university had to pivot. We were always good from an engineering standpoint, but we shifted our focus on advanced and additive manufacturing. We have been able to seize on our good fortune. We won't bring tens of thousands of employees here like the steel mills once did. But we will bring manufacturing 4.0.
OB: Are there any specific projects on the horizon?
JT: We are creating an excellent training center in advanced manufacturing that is just starting construction. It is our biggest project, but we have to do it with some very important partners, including America Makes; the Youngstown Business Incubator; TBEIC, which is our energy incubator; and Eastern Gateway Community College, among several others (which include the Mahoning Valley Manufacturers Coalition, Trumbull Career and Technical Center, Chofin Career and Technical Center, Mahoning County Career & Technical Center, Columbiana County Career & Technical Center and the Mahoning County Educational Service Center). 
All of these partners have come together to really seize this opportunity. It's very exciting to see what will happen in the next one or two years as we get this facility up and running. We have already been granted $500,000 from the state of Ohio for operational start up of the new facility. (Called the Mahoning Valley Innovation and Commercial Consortium Excellence Training Center.)
Within the Innovation Center, we will be able to train people, but we will also offer access to companies within 50 miles, helping them to understand what advanced manufacturing is—whether that includes 3D printing or the internet of things, or any other advanced manufacturing techniques. We'll be able to help them integrate these disciplines into their companies. Remember, that from a size standpoint, many of these companies don't have an R&D area, like a Boeing, Lockheed or GE. While we will do work with those companies, smaller companies are one area of economic impact that we have been working very hard on.
OB: You mentioned your partners. How important is it for a public university to work with strategic partners on economic development?
JT: If you work together extraordinary things can happen. All entities have their own needs and passions. My experience is that it is simply human nature. But if you fight off those tendencies and decide to work together, it is amazing what you can do.
Right now, we have about 43% of our population in Ohio that has any education above the high school level. Conventional thinking is that you need about 65% if you are even going to compete.
Because so much of education is governed locally, it will all come down to whether we can work together, whether that is K through 12, community college, higher education, charter schools—you name it. If we don't work together, we will continue to struggle. Right now, Ohio is not on an upward trajectory from an economic development standpoint, at least when it's compared to some other states.
When I was coaching in our state capital, the only thing that was acceptable was being the very best in the nation. And right now, from an education standpoint, we are certainly not the best.